Hypercom Optimum L4105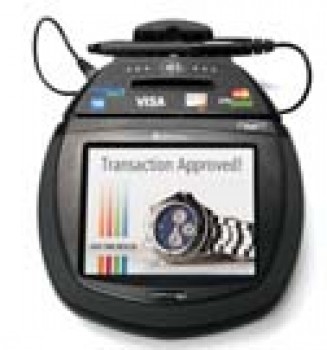 This is yet another innovative product from Hypercom. The Optimum L4105 comes in a sleek design and allows the seller to integrate its logo and company colors.
---
L4105 triple track magnetic strip reader is bi-directional which gives flexibility and speed in checking out customers. Further as to speed, it operates with Intel XScale 32-bit processor and 24MB memory which allow the machine to accommodate high-volume transactions for a materially lesser amount of time. Its signature capture capability is very reliable.
It meets security standards with its various safeguards including its scalable transaction framework and POS Public Key Encryption using the RSA method.
For greater value, Hypercom Optimum L4105 enables companies to save much on repair and maintenance cost by its auto-sensing screen.
---
Specifications:
Specification:
Processor
Intel XScale 200MHz, 32-bit processor
Display
5.7 in. VGA color (standard)
Touch screen with screen protector; screen protector
absence sensor prohibits use without screen protector
in place.
Card Reader
Magnetic stripe: Bi-directional, Tracks 1, 2 & 3
(standard); dual-head card reader (optional)
Chip card: EMV4.0 certified; ISO 7816;
non-captive; 3V and 5V cards; two 5V SAMs
Contactless payment: Integrated (optional);
compliant with ISO 14443 A & B
Communications
Two RS-232 ports (if contactless payments reader is
configured, only one RS-232 port is available); RS-232
with power in or out; USB Client; optional 10/100Base-T
Ethernet RJ-45 connector; optional IBM retail USB;
optional compact flash, 3.3V cards only
Memory
4MB Flash/8MB SDRAM (standard)
8MB Flash/16MB SDRAM (optional)
Power
AC: 100-240 V, 50/60 Hz
DC: 12 V @ 700mA or 24 V @ 350mA
Encryption
INTERAC certified
DES: Visa PED approved; PIN-ANSI X9.8,
MAC-ANSI X9.9 Part 1-ANSI X9.24
Triple DES: ANSI X9.52
Key management: DUKPT and master/session keys
Footprint
8.39 in x 8.19 in x 3.46 in/21.3 cm x 20.8 cm x 8.8 cm
Weight
Environment
Temperature: 0-45°C/32-115°F
Humidity: Max 85%, non-condensing
ESD: 12,000 volts
Reliability
100,000 hours (MTBF calculated)
---
Contact Us For Details: