VeriFone Omni 395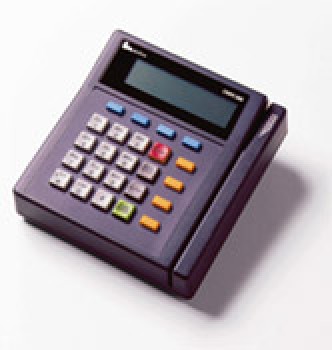 The VeriFone OMNI 395 credit card terminal is suitable for merchants who are keen on current and future requirements.
---
The VeriFone OMNI 395 is constructed giving more memory, a speedy modem, hassle-free remote upgrades and peripheral ports that will serve purposes in giving a quality performance to merchants.
Downloading from this terminal is fast without complex methods. Data transmission can be done in partial or full downloads, on-site or in a remote area. The Flash EPROM lets the OMNI 395 do an electronic upgrade for the operating system eliminating the need to replace hardware.
The OMNI 395 offers a range of storage memory size from 128 to 896 Kbytes. This flexibility allows merchants to upgrade to new applications without regular terminal replacement. The three ports in the OMNI 395 can handle more peripherals like printer, PIN pads, card/check readers and bar code wands,
With addressable keys and comprehensive prompts, users can easily operate the OMNI 395. This credit card terminal displays Chinese, Thai, Arabic and Cyrillic-based languages. Switching language can be easily done with a single function key. Customize programming for the keys will create a single operation with a combination of keys.
---
Specifications:
Hardware:
Microprocessor: Z180 CPU
Memory: 64 Kbyte EPROM and 256 Kbyte battery-backed RAM standard;
126 Kbyte, 512 Kbyte and 1 Mbyte RAM models optional
Display: Continuous dot matrix graphic display that can show
4-line x 25-character, 3-line x 18-character, 2-line x 18-character,
logo or other image formats
Card Reader: Bidirectional, supports a track 1 and track 2 or a track 2 and track 3 reader
Peripheral Ports Three ports included for peripherals:
8-pin printer port for a slip, roll or sprocket printer
6-pin port for a PIN pad, smart card reader or bar code wand
RS-232 port for ECR, check reader or other peripheral
Communications:
Modem: Bell 103/212A (300/1200/2400 bps)
CCITT V.21/V.22/V.22 bis
(300/1200 bps/2400 bps) asynchronous dial modem;
2400/1200 bps synchronous dial modem
Protocols: Application selects between asynchronous protocols
(Visa 1, Visa 2 and others) and synchronous protocols
(including ISO 8583/SDLC
Physical:
Height 1.9 in (48.3 mm)
Width 5.6 in (143.1 mm)
Depth 5.9 in (149.9 mm)
Shipping Weight 2.2 lb (1.0 kg)
Environmental:
Operating Temperature 0 to 40 C (32 to 104 F)
Operating Humidity 20% to 90%, non-condensing
Power:
Voltage 120 VAC, 60 Hz
220/240 VAC, 50/60 Hz
---
Contact Us For Details: