Nurit 8020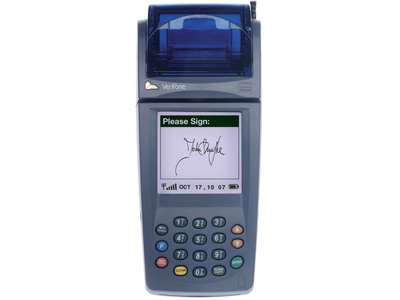 The Nurit 8020 is one of the most popular wireless POS terminals. The 8020 is approved by Visa and MasterCard for safe PCI PED transactions. With a great array of communication choices, the Nurit 8020 makes a perfect platform for merchants in every business field. It is designed to deliver fast yet efficient methods for revenue generation.
---
Nurit 8020 consist of Wireless Processor, Printer, Pinpad, and PDA interface Terminal. It exists to be the smallest full-featured POS terminal available today. Mobility is not a hassle anymore with Nurit's Wireless technology.
Using the Nurit 8020 gives way for retailers to present their products directly to clients. They are confident that doing business with this POS device will result in highly secure card transaction. Included in its security feature is a PIN pad with Triple DES encryption.
Even with its light weight, the Nurit 8020 holds a large touch screen display with electronic signature capture, removable memory for large file storage, SMS and voice phone preference and easy manipulation for business management. The 8020 operates in numerous communication technologies, which includes GPRS/GSM for cellular network and TCP/IP for Internet based transaction.
---
Specifications:
Processor
32-bit ARM RISC microprocessor
Memory
Up to 2GB with standard SD/MM Card
(2-8MB Flash, 1-4MB RAM);
optional SD/MMC card
User Interface
128 x 128 pixel white backlit touch
screen graphical display, multilanguage
support; 18-key ergonomic
keypad
Magnetic Card Reader
Dual or triple track, horizontal swipe,
bi-directional, ISO 7811, high and low
coercivity
Smart Card
EMV 2000 Level 1, ISO 7816; 5 V, 3 V and
1.8 V cards; T=0, T=1, asynchronous,
synchronous
SAM and SIM sockets
Optional 1 or 2 SAM sockets;
One SIM card slot
Device Ports
Powered RS-232 for external landline
modem, barcode scanner and other
peripherals
Printer
Thermal graphical printer;
15 lines/second; 8 dots/mm;
57 mm (2.35 in); wide paper; improved
easy-open and easy-load mechanism
Security
PCI PED approved secure internal PIN
pad with Triple DES encryption, secure
downloads
Communications
Built-in radio modem;
internal antenna
Wide range of networks:
GSM/GPRS; Wi-Fi 802.11b wireless
LAN; TCP/IP; Optional external or
docking station landline modem
Dimensions and Weight
H 59 mm (2.3 in) x W 92 mm (3.6 in) x
D 210 mm (8.3 in); 575 g (1.3 lb)
including battery pack
Environmental
Operating temperature: 0 C to 45 C;
storage: -20 C to 60 C;
humidity: 5% to 95% non-condensing
Battery and Power
Rechargeable and replaceable internal
Lithium-ion battery
Input: 100-240 VAC at 50/60 Hz (0.8 A)
Output: 8.4 VDC at 1.0 A
Optional Accessories
External landline modem;
Docking station; Vehicle adapter
---
Contact Us For Details: