First Data FD200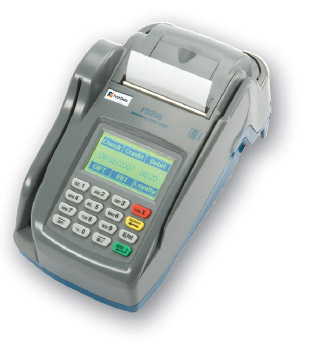 This First Data FD200 is an innovative credit card terminal and check machine. It accepts payment from credit or checks in one easy-to-use compact terminal. This gives retailers valuable counter space with its small footprint.
---
The First Data FD200 terminal answers the merchants' need for numerous devices to process different payment options. Having an optional WiFi, IP or dial-up connections, it can securely process transactions. Through its magnetic-strip reader, the FD200 terminal accepts all major credit cards including Visa, American Express, MasterCard, Diners Club, Discover Network and JCB. It has a check reader/imager to support the TeleCheck ECA and lockbox services. This feature illustrates the process of scanning the customer's check, secure the funds and transferring the check into the retailers checking account. Processing of checks can easily be managed as the FD200 has an image checker that cuts the process of physical verification from banks. Customers then feel more secure knowing they can retrieve the check in the POS.
The FD200 gives merchants different options compared to older POS terminals. This design replaces the older TeleCheck Eclipse. The Eclipse only uses dial-up connection.
In addition, the FD200 features a touch screen interface. A thermal printer is also integrated in this POS terminal. The FD200 terminal gives the retailer choice in adding the Dynamic Currency Conversion (DCC) service from First Data. This will provide international customers the option to pay in their credit card currency.
---
Specifications:
WiFi capabilities (optional)
Intuitive 128 x 64 LCD touch-screen technology
True 32-bit processing (ARM 929T 32-bit CPU core)
Integrated check reader/imager with separate
32-bit ARM7 CPU
64MB RAM standard memory
Drop-in paper loading for integrated thermal receipt printer
Inkjet single-line defacement printer dedicated to voiding checks
Five USB and two serial ports
Supports contactless payment technology
Supports IP and dial-up, with Secure Sockets
Layer (SSL) encryption
Optional DCC service
---
Contact Us For Details: