Nurit 3000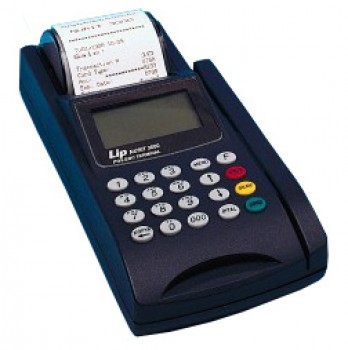 The NURIT 3000 is an ultimate, economical and elite performer. As an additional item to the Lipman family, this POS terminal has all the advantages needed contained in a small footprint. A reliable thermal printer is incorporated for highly fast solution in electronic needs.
---
The NURIT's accessible keyboard, noticeable contrasting alphanumeric display and menu classification makes manipulation easy. Upgrade can easily be achieved by an additional built-in PIN pad or a smart card reader. These enhancements eliminate the need for expensive external devices.
Modern communication methods and dependable programming software made this terminal as a great choice for merchants. It is designed to handle multi-application POS using many electronic transaction payments. Fast yet displays minimal error percentage. Furthermore, the NURIT 3000 supports synchronous and asynchronous communication. This feature allows possibility in multiple-card use utilizing small number of links to maximize efficiency in processing.
---
Specifications:
Human Interface
Graphical back-lit 20-character LCD display (128×64 pixels)
Highly reliable 20-key ergonomically designed keypad
Full alphanumeric entry capability
Dual track 1 and 2 card reader (tracks 2 and 3 optional)
User-friendly menu-driven system
Easily accessible rear peripheral ports
Processing
Powerful 32-bit Motorola microprocessor, type EC68000
Memory
Total memory capacity of 2 MB
1 MB flash memory for loader for operating system, application,
protocol and parameters
256 KB (min.) rechargeable battery backed-up RAM for user data
(including RAM disk)
512 or 1024 KB battery backed-up RAM (optional)
6 month minimum data retention
Programming
Easy-to-use API, minimizing application size and programming
efforts
Same application runs on all Lipman terminals
Application downloading via phone line or RS-232 connection
Easy-to-use debugging tools
Complete and detailed hardware/software built-in tests
Add-on application libraries for major third-party credit, debit, check
and verification and truncation programs, EBT, phone cards, prepaid,
added value and private label cards
Communication
Dial-up modem @ 1200/2400bps for telephone communication
(CCITT V.22bis and Bell 212A). Asynchronous and synchronous
protocols supported by operating system (OS). Higher bit rates in
future models
HDLC protocol supported by operating system
Interfacing
Two RJ-11 2/6 connectors for tel-line and telephone
One RJ-11 4/4 connector for external PIN pad interface (RS-232
port)
One RJ-45 connector for RS-232 communication
Built-In PIN Pad (Optional)
Eliminates the need for external device
Meets standards: ANSI X3.92, ANSI X9.24, ANSI X9.8
Built-In Smart Card Interface (Optional)
One smart card interface (supports ISO-7816)
Eliminates the need for high-cost external devices
Certified by Visa and MasterCard
Up to two ISO 7816 SAM Security Modules (Optional)
Two internal (non-accessible) at board level
Printer
Fast, highly-reliable thermal printing mechanism
Simple-to-use automatic paper feeder
Standard 2.24 inch/(57mm) wide paper
Printing speed: 12 lines-per-second
Power
Supplied Underwriter Labs approved 14.5Vdc/1.5A
AC/DC adapter
Mechanical
Dimensions: 82 mm/3.23 in (H) x 108 mm/4.25 in (W)
x 230 mm/9.06 in (D)
Weight: 730g/1.6 lb
Approvals
Complies and registered with FCC parts 15 and 68
Complies with TBR21
Power supply adapter recognized by Underwriter Labs (UL)
---
Contact Us For Details: