VeriFone Vx510LE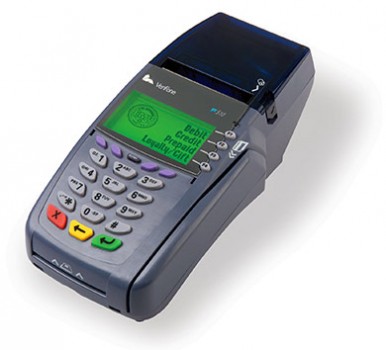 This payment terminal defines that even simplicity can give full productivity. The VX 510LE can handle payments in a speedy rate.
---
The VeriFone VX 510LE features numerous capabilities, thus eliminating the need for additional devices. It has a vertical, triple-track card reader that holds all magnetic-stripe cards. Extended support for peripheral devices like electronic check processing and other application adds to its flexibility. New technology from VeriFone enables effortless upgrades.
A built-in thermal printer helps the continuous movement of customers to minimize queue time. The printer has a simple paper loading system for easy operation. Another advantageous element is its user friendly interface that offers the familiar ATM-like manipulation. The large keys helps user for more readability and thus producing less errors. Its compact size gives merchants significant space with less clutter.
The VeriFone VX 510LE comes with a built-in PCI PED approved PIN pad for security measures. It includes latest security for unmatched protection.
---
Specifications:
Microprocessor:
32-bit microprocessor.
Memory:
1.5, 3 or 4 MBytes.
Display:
128 x 64 pixel LCD with backlighting; supports 8 lines x 21 characters, including graphics.
Magnetic Card Reader:
Triple track (tracks 1, 2, 3), high coercivity, bi-directional.
Primary Smart Card:
ISO 7816, 3V, or 5V synchronous and asynchronous cards (Omni 3720 and 3750); EMV-certified.
SAM Card Reader:
2 or 4 SAMs optional (Omni 3720 and 3750).
Keypad:
3 x 4 numeric keypad, plus 8 soft-function keys and 4 screen addressable keys
Peripheral Ports:
Two RS-232 ports and 1 telecom port support peripherals.
Printer:
Integrated thermal printer with graphics capabilities, 12.5 lps, 24/32/42 columns; standard roll paper 58 mm (2.25 in.) x 25M.
Omni 3750 Communications Module
Dial:
Bell 103/212a; ITU V.21/V.22/V.22bis/V.32/V.32bis — 300/1200/2400/9600/14.4 kbps; V.42 LAPM error correction.
10BaseT Ethernet (Optional Adapter Required):
Standard RJ45 connection; supports general internet protocols: FTP, TCP/IP, UDP DNS, SMTP, POP3, MIME, HTTP, and Telnet; LAN internet protocols: ARP, ICMP and DHCP; 10 sockets (2 server sockets), AT+I application-level commands, SerialNET transparent session. Internet Security: SSL modem: Bell 103/212a, CCITT V.21/V.22/V.22bis, 300/1200/2400 bps, synchronous and asynchronous.
Protocols:
Application selects between asynchronous protocols (Visa 1, Visa 2, and others) and synchronous protocols (including ISO 8583/SDLC).
Security:
3DES encryption; DUKPT and Master/Session key management; PED certified; VeriShield file authentication.
Physical:
Length: 210 mm (8.3 in.)
Width: 104 mm (4.1 in.)
Depth, includes printer spool: 83 mm (3.3 in.)
Weight: 760g (1.7 lbs)
Environmental:
0 to 40 C (32 to 104 F) operating temperature;
5% to 90% relative humidity, non-condensing.
Voltage:
100-240 VAC, 50/60 Hz, DC input 22–26 VDC, 1.5 Amp
---
Contact Us For Details: