VeriFone P250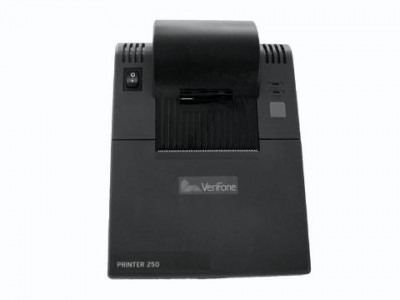 A widely known addition to POS systems that will surely optimize business productivity that is what VeriFone
---
The Printer 250 is a popular receipt printer and can be seen in most countertops everywhere. It is proven to work efficiently regardless of what business you have. It may be groceries, pharmacies, gas stations and the P250 works just as well.
The PRINTER 250 is compatible to all VeriFone credit card terminals. It supports some non-VeriFone terminals also. This became a leading POS compact printer for its graphical capability and 11 international character sets that extended the potential value of a bare credit card terminal.
Transaction is continuous as the P250 offers great operational guides and prompts. These alerts give the users warning if a paper refill is needed. The PRINTER 250 features a convenient drop-in ribbon and an integrated paper-path feed.
Performance:
Complete and accurate audit of transaction balances
Compatibility on any VeriFone systems
Supports international character sets and graphics
Prompts of print warnings
Cost-effective printing solution
---
Specifications:
Physical:
Height: 4.1 in (105 mm)
Width: 6.1 in (155 mm)
Depth: 8.9 in (225 mm)
Shipping Weight: 7 lbs (3.2 kg)
Operating Temperature:
0 to 40 C (32 to 104 F)
Printing:
Method: 7-pin shuttle-impact dot matrix
Speed: 2.1 lines per second (may vary depending on the applications)
Buffer:3 line
Print Head Life Expectancy: 50 million characters
Mechanism Reliability:
1.5 million lines MCBF (mean cycles between failures)
Characters:
11 sets: US, UK, French, German, Danish I, Danish II, Swedish, Italian,
Spanish, Norwegian, Arabic graphics printing capability
Ribbon Type Cartridge
Color:
Dual color (red/black) and single color
Paper Size:
3.0 in (76 mm) wide standard roll
Format:
42-column, portrait
Interface:
Serial: RS-232C compatible
Baud Rate: Switch selectable; 1200, 2400, 4800 and 9600 baud
Power:
Voltage: 120 VAC, 47 – 63 Hz (10%) or 220 VAC, 50 Hz
---
Contact Us For Details: