Magtek DynaPro®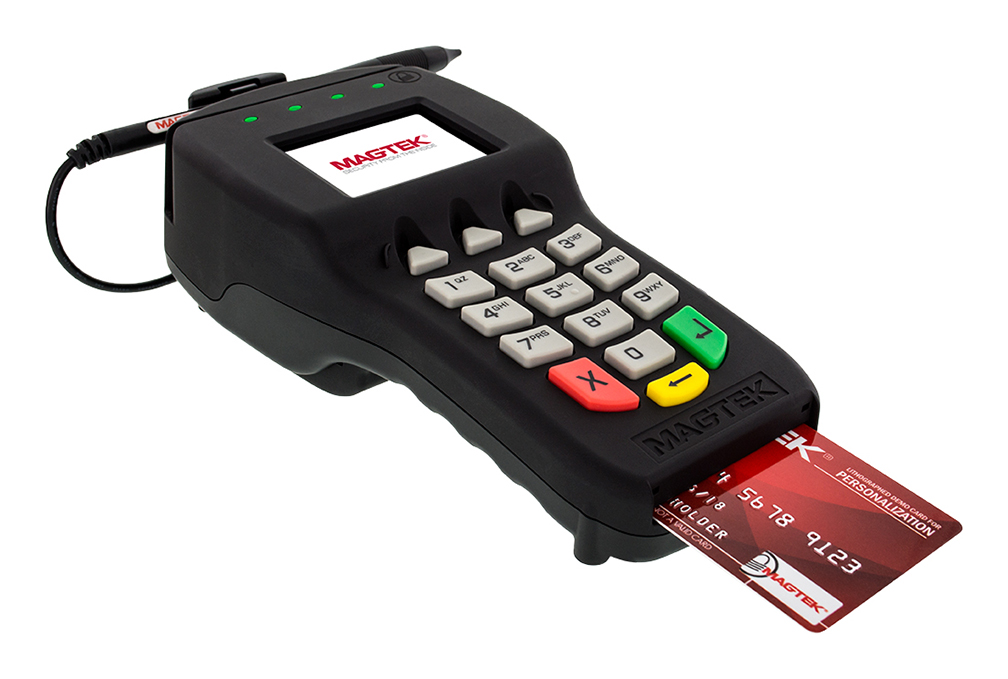 This PIN pad device accepts secure PINs, magstripe, EMV contact and contactless, and optional NFC payment methods all in one device.
---
The DynaPro is a secure PIN-entry device. It protects the cardholder data whether it is read using the MagneSafe Secure Card Reader Authenticator (SCRA), contact or contactless smart card reader. It is the most comprehensive, end-to-end security solution available. Prevent card data breaches without compromising the speed and convenience of your cardholders' financial transactions with DynaPro.
The MagTek DynaPro is also known as the Mag-Tek DynaPro
---
Specifications:
| | |
| --- | --- |
| Brand | MagTek |
| Series | DynaPro |
| Part Number | 30056028 |
| Type | Mobile Payment Solution |
Specifications
| | |
| --- | --- |
| Card Reader | Magstripe, Smart Card, Contactless |
| Magnetic Card Track | 3-track secure card reader authenticator |
| Display | Color |
| Display Feature | Backlit color LCD graphics |
| Interface | USB |
| Support Smart Card | Yes |
| PCI PED Approved | Yes |
Feature
Feature
PCI PTS 3.x, SRED
Meets EMV level 1 and 2 requirements
Triple DES encryption
DUKPT key management
Device/mutual authentication
Card data authentication
Tokenization and masked data
USB HID Device or Ethernet Device
Ergonomic and ruggedized design
Secured by MagneSafe Security Architecture
MagnePrint card authentication
Generates dynamic payment card data with each swipe
Real-time electronic signature capture (in some models)
Optional Privacy Shield
Backlit color LCD graphics
Reads all standard ISO and AAMVA, EMV, Mifare and NFC cards
ICC Card Reading
EMV contact/contactless Smart Card reader
Fast and reliable reading of magstripe
Reads up to 3 tracks of card data
Bi-directional read
Supports secure storage and erasure of encryption keys
Cable protection mechanism
Capacitive touch keypad system prevents tampering
We Offer Most POS Equipment in Factory New and Refurbished (Re-Manufactured)
Do you have a stock of MagTek or some other POS Related Inventory you want to sell? Contact us today as we buy and sell worldwide.
Min. Order 10 Units
POS Network is your choice for "International Purchases" with more than 20 Years of experience!
Need a price quote? Contact us at 360-313-7521 or please use the form below. Sorry we do not post prices as we are an enterprise only seller – Thank You
---
Contact Us For Details: