VeriFone Omni 3210SE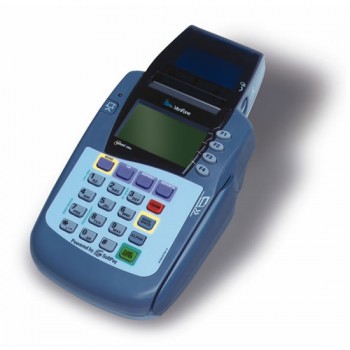 The VeriFone Omni 3210SE terminal offers not just remarkable performance but also comes with a stylish sleek design in an economical cost.
---
Integration with transactional processing and compatibility makes this terminal a top choice among US merchants. The SE models from VeriFone features much faster processing speed, improved application performance and more cost-saving. In addition, the 1Mbyte of SRAM supports more applications.  An integrated PIN pad is also included for transactions that needs PIN entry. This new line from VeriFone is compatible with the previous Omni 3200/3210 models.
Simple ATM-like display with systematic function keys eliminating possible input errors. The terminal has a compact design to save unnecessary clutter an 8×21 backlight that improves readability for graphical display in any light setting. This design helps minimize the cost of training and increase efficiency. The built-in thermal printer is outstandingly quiet yet fast. It also features drop-in paper-loading procedure with covered path to virtually get rid of paper jams and even in tight spaces.
The VeriFone Omni 3200SE and Omni 3210SE terminal both supports SoftPay software, an application from VeriFone. SoftPay is a leading payment application which has been verified by major processors. The SE models support easy connectivity with other external peripherals to extend flexibility.
---
Specifications:
Display: 128 x 64 pixel graphical LCD display with backlighting; supports the following configurations: 6 x 8 characters/8 rows x 21 columns; 8 x 16 characters/4 rows x 16 columns; 16 x 16 characters/4 rows x 8 columns
Card Reader: Bi-directional: supports triple track (tracks 1,2,3)
Keypad: 3 x 4 numeric keypad, plus 8 soft function keys and 4 screen addressable keys
Allows for flexible mounting on walls or in stands
Printer: Clam shell, thermal, 13 lines per second; MTBF: 4 million lines; graphic printing capability
Paper Rolls: 2.25 in (58mm) standard roll; single ply
Peripheral Ports: Two telco ports, one RS-232 port and one PINpad/Barcode port
Dimensions: 3.1″ x 5.3″ x 10.25″
---
Contact Us For Details: