Hypercom S7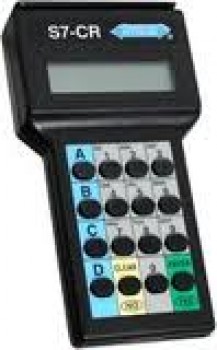 The Hypercom S7 is a PIN pad used for Hypercom terminals. It complies with PCI-PED standards and payment schemes rules which ensure industry guidelines.
---
The Hypercom S7 is a cost-effective choice with quality performance for PIN based transactions, ECR's and third party POS systems. Hypercom S7 supports DES and triple DES encryption which are security standards in PIN entry. Stringent security methods protect any fraud and malicious information interference. Management option is included in the S7 PIN pad. These two management schemes are the Master/Session Working Key and the Derived Unique Key Per Transaction (DUKPT).
The Hypercom S7 design is comfortably fitted for customer's private PIN entry. It can easily be handled and be in a client's advantage point to safeguard his PIN. The clear display, function keys and comprehensive instructions are among the features to which the Hypercom S7 is a quality PIN entry device.
---
Specifications:
Display
LCD:
2 lines x 16 characters standard
122 x 32 pixels optional
Keypad:
15 keys 10 numeric, 3 acc, 2 control
16 keys 10 numeric, 4 acc, 2 control
Card reader
Embedded circuit:
ISO 7816-1 for physical & contact distances
EMV-compliant
Synchronous IC, GPM, 103, GFM, 4K
Asynchronous ISO 7816-3, T=0, PCOS, MCOS
Comms
Asynchronous: 4-wire, RS422, 9600 bps
LAN-compatible: 2-wire, RS485, 19.2 Kbps
Security
Physical: Sealed housing with RAM & logic module
encapsulated in metal
Keyboard: Integrated with main PCB
Software: Boot O/S, encryption, display & keyboard drivers,
applications, hardkeys & passwords loaded from
external source
Encryption
Key mgmt.: 12 master/session keys, 12 PIN keys, 12 MAC keys
or 1 DUKPT
Key loading: Load key only – Hypercom HKLM system &
Hypercom LP-1 PIN pad interface
Load & firmware keys – Hypercom HKLM system &
Hypercom LP-2 PIN pad pod loader
Environment
Temperature: 0-45 C/32-115 F
Humidity: Max 95%, non-condensing
ESD: 12,000 volts
Footprint
Dimensions: 6.76 in x 3.5 in/17.15 cm x 8.89 cm
Weight
0.6 lbs/0.27 kg
Product lifecycle
Reliability: 95,000 hours (calculated)
---
Contact Us For Details: