Nurit 504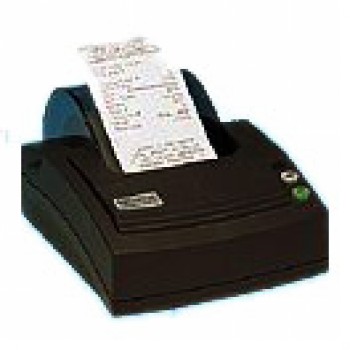 Lipman setting the trend in POS market introduces an economical line of retail business receipt printer. This series of product easily works with well known Lipman terminals and other top POS business manufacturers like Verifone.
---
As competition rise in the retail industry, the Nurit 504 offers efficiency design that retailers can benefit from. It is a user-friendly device and has multi-language support. In addition, this printer is compact and light weight. Installation is easily done. The Nurit 504 uses a specialized automatic paper loading system to make paper roll replacement trouble-free.
---
Specifications:
Printer Mechanism:
Seiko, MTP-201
Print Method:
Heat sensitive serial dot system
Printing:
Speed/ 24 Columns 1 line/sec.
Printing Direction:
Left to right relative to paper feeder direction
Printing Width (mm): 46 + 1
Font (mm): 5 x 7 dot matrix
No. of Columns: 24 (2-dot space)
Character Size [mm]:
(H) x (W): 2.4 x 1.3 (for 5×7 matrix)
Line Feed Speed: 0.8 lines/sec.
Paper Width (mm): 57.5
Interface: RS-232C
Input Buffer: 4KB
Baud Rate: Selectable 1200, 2400, 4800, 9600, 19200
Physical:
H: 3.4 in (90 mm); W: 6.8 in (130 mm); D: 5,1 in (173 mm);
Weight: 425g/0.94lb (without paper roll)
Operating Temperature: Approx. 5 to 40C
Operating Temperature: Approx. -20 to +60C
Voltage: 9-14Vdc/1.5A (Standard jack)
---
Contact Us For Details: