MagTek Intellipin Plus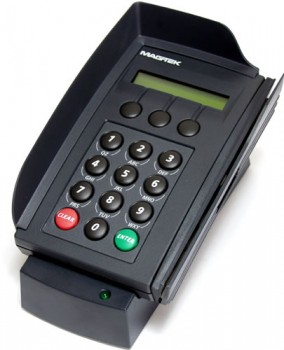 The IntelliPIN from MagTek enables quality and convenience for PIN-based and magnetic reading transaction in one portable device.
---
The MagTek IntelliPIN is a compact device for PIN pad operations. Its portability is commonly used for card issuance and window-based ID transactions. The device is integrated with a three-track vertical magnetic stripe reader.
The IntelliPIN PIN pad is easily removed from its base. Cardholders then can comfortably enter their PIN selection in a more private way. After the PIN entry, the PIN pad is easily put back to its base where the PIN block and card information is transferred to the host application.
The IntelliPIN is capable of capturing information from the magnetic stripe on a driver's license or any standard cards to make identification and verification more reliable.
For security measures, the MagTek IntelliPIN supports DUKPT and Master/Session key management methods. Single DES, Triple DEA, IdentiKey and DUKPT algorithms are also supported.
---
Specifications:
General
Color
Dark gray
Weight
Nonportable: 1.09 lbs (493 gr)
Portable: 1.25 lbs (567 gr)
Dimensions (in-dock)
Height: 3.25 in (82,6 mm)
Width: 4 in (101,6 mm)
Length: 7 in (177,8 mm)
Interface
USB
RS-232
Wedge
Specifications
Display
2 x 16 Dot Matrix LCD
Power Adaptor
12 VDC, 300 mA (unregulated)
Card Reader
3 tracks (bi-directional)
Card Types
ISO, ANSI, ABA
MTBF
Electronics: 30,000 hours
Head: 1,000,000 passes
Environmental
Temperature
Operating: 60F – 90F (15C – 32C)
Storage: 32F – 122F (0C – 50C)
Humidity
Operating: Operating: 15% – 90% non-condensing
Storage: 10% – 100% non-condensing
Altitude
Operating: 0 – 10,000 ft (0 – 3,048 m)
Storage: 0 – 50,000 ft (0 – 15,243 m)12
---
Contact Us For Details: