VeriFone Omni 3750 Dual Mode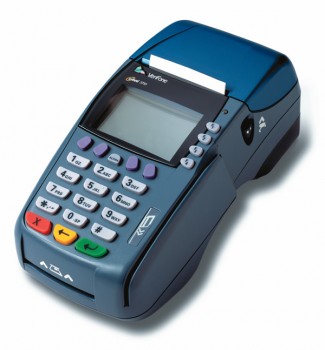 The VeriFone 3750 offers absolute flexibility and efficiency. This device earned the credit for being the first POS terminal that utilizes Ethernet-based payment methods.
---
The VeriFone Omni 3750 is a combination of many point-of-sale devices. It includes a magnetic stripe and smart card readers, PIN pad and a thermal printer into a small terminal. The Ethernet-based capability of the Omni 3750 allows merchant to set up other sale points when customers are at most. Extended sales from booths are possible due to the Omni 3750's connectivity range. Having DSL or cable connection will automatically give merchants the ability to process transaction only with the power source as a requirement. Other devices connected from the Internet can be hooked up to function in one link. This get rid of costly connectivity fees.
Its small footprint saves valuable counter space and can be easily operated by users for secure PIN input. The Omni 3750 accepts value-added services which strengthen the solution for an all-in-one terminal need.
---
Specifications:
Microprocessor:
32-bit microprocessor.
Memory:
4 MBytes.
Display:
128 x 64 pixel LCD with back-lighting; supports 8 lines x 21 characters, including graphics.
Magnetic Card Reader:
Triple track (tracks 1, 2, 3), high coercivity, bi-directional.
Primary Smart Card:
ISO 7816, 3V, or 5V synchronous and asynchronous cards (Omni 3720 and 3750); EMV-certified.
SAM Card Reader:
2 or 4 SAMs optional (Omni 3720 and 3750).
Keypad:
3 x 4 numeric keypad, plus 8 soft-function keys and 4 screen addressable keys
Peripheral Ports:
Two RS-232 ports and 1 telecom port support peripherals.
Printer:
Integrated thermal printer with graphics capabilities, 12.5 lps, 24/32/42 columns; standard roll paper 58 mm (2.25 in.) x 25M.
Omni 3750 Communications Module
Dial:
Bell 103/212a; ITU V.21/V.22/V.22bis/V.32/V.32bis — 300/1200/2400/9600/14.4 kbps; V.42 LAPM error correction.
ISDN:
DSS1 (Euro-ISDN) or 1TR6 (German National ISDN) ITU— V.110/V.120 in B channel; X.75, PPP, or HDLC in B channel; X.25 in B or D channels; X.31 in D or B channels (9600/64000 bps); ML-PPP (PAP or CHAP—MD5 or Microsoft CHAP variants).
10BaseT Ethernet (Optional Adapter Required):
Standard RJ45 connection; supports general internet protocols: FTP, TCP/IP, UDP DNS, SMTP, POP3, MIME, HTTP, and Telnet; LAN internet protocols: ARP, ICMP and DHCP; 10 sockets (2 server sockets), AT+I application-level commands, SerialNET transparent session. Internet Security: SSL modem: Bell 103/212a, CCITTV.21/V.22/V.22bis, 300/1200/2400 bps, synchronous and asynchronous.
Protocols:
Application selects between asynchronous protocols (Visa 1, Visa 2, and others) and synchronous protocols (including ISO 8583/SDLC).
Security:
3DES encryption; DUKPT and Master/Session key management; PED certified; VeriShield file authentication.
Physical:
Length: 210 mm (8.3 in.)
Width: 104 mm (4.1 in.)
Depth, includes printer spool: 83 mm (3.3 in.)
Weight: 760g (1.7 lbs)
Environmental:
0° to 40° C (32° to 104° F) operating temperature;
5% to 90% relative humidity, non-condensing.
Voltage:
100-240 VAC, 50/60 Hz, DC input 22-26 VDC, 1.5 Amp
---
Contact Us For Details: