Epson TM-U925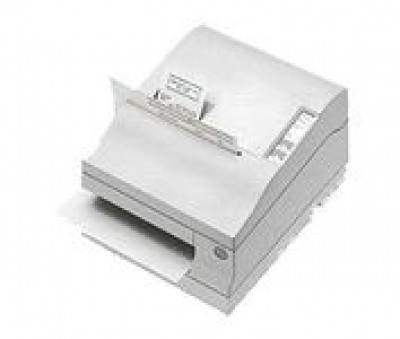 The TM-U925 is made for large volume printing processes in large scale businesses. Runs with the 2.5 station model in the TM Series.
---
The TM-U925 printer from Epson is known for its flexibility and reliability for big demands in POS systems used by numerous retailers. It is perfectly designed to achieve multifunction requirements in large POS systems.
The TM-U925 is a fast performing printer with a speed rate of 300 characters per second. It has an exceptional ability to print 88 columns. The printer supports many formats including receipts, journals and wide slips; it can also print an original and up to four duplicates.
The user-friendly design of the TM-U925 significantly reduces time in maintenance and paper reloading. Optional modules are available to further enhance the printer's capabilities. One of the optional add-ons is the MICR. The Magnetic Ink Character Recognition reader allows the printer to process MICR characters in addition to printing endorsements.
---
Specifications:
Printing Specifications
Printing method : Serial impact dot matrix
Printing direction : Bidirectional, minimum distance printing
Characters per line : (9 x 9 – 3 dots 12.5) CPS: 233(high) 200(low) – (7 x 9 – 2 dots 16.7) CPS: 311(high) 267(low)
Character Specifications
Number of characters
Alphanumeric characters: 95 International characters: 32
95 International characters: 32
Extended graphics : 128 x 8 pages (including space pages)
Character structure
9 x 9 3-dot spacing (in half dot units)
7 x 9 2-dot spacing (in half dot units)
Larger spacing can be set by using ESC SP
Paper Specifications
Paper feed method : Friction feed
Paper feed pitch
Default 4.23 mm {1/6 inch}
Can be set in units of 0.353 mm {1/144 inch} by the ESC 3 and ESC J commands
Paper feed speed
Approx. 60.3 ms/line (4.23 mm {1/6 inch} feeding)
Approx. 86.36 mm/second {3.4 inches/second} (continuous feeding)
Paper size : Paper roll (single-ply)
Size : Width 69.5 mm + 0.5 mm {2.74″ + 0.02″}
Maximum outside diameter : 83 mm {3.27″}
Thickness : 0.06 to 0.09 mm {.0024 to .0035″}
Paper roll inside diameter : 10 mm {0.39″} or more
Slip paper
Paper type
Normal paper
Carbon copy paper
Pressure sensitive paper
Total thickness : 0.09 to 0.36 mm {.0035 to .0141″}
Size
(W x L) : 70 mm x 70 mm to 210 mm x 297 mm (A4 size)
{2.76″ x 2.76″ to 8.27″ x 11.69″}
---
Contact Us For Details: