Hypercom Optimum T4100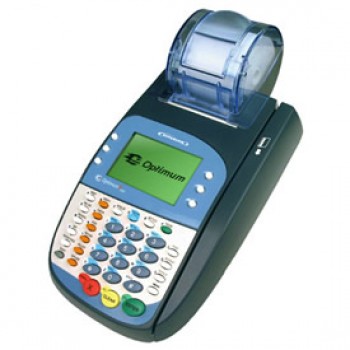 The Hypercom Optimum T4100 embodies ease of use, speed and security.
---
The Optimum T4100 allows the merchant to mix-and-match payment programs. It can simultaneously support dial and IP/SSL applications. Software integration is avoided altogether. Further, since security is an utmost concern, Optimum T4100 ensures privacy and security with its MasterCard PTSP and EMV approval, and PED certification and RSA encryption. It is only 9" x 6" in size so it does not consume too much space on the countertop. It prints fast to up to 18 lines per second.
The T4100 supports connection types both from dial and IP. Because of the fast-downloading speed, transaction time is reduced per customer and taking the business into a fast yet secure management.
---
Specifications:
Processor:
Intel XScale 32-bit processor operating at 200MHz with performance of 250 MIPS
Keypad:
Elastomeric: 35 keys, water splash-resistant; 6 soft keys; 19-key mode available
Display:
160 x 80 graphics
Backlit
Card Reader:
Magnetic stripe: Tracks 1, 2 & 3 (standard)
Contactless payment: Compatible with OTI
and Vivotech external readers; standalone unit connected via miniDIN;
RS-232 port
Communications:
Dual RS-232 ports (standard with use of splitter); 10/100Base-T
Ethernet (standard); PIN pad port: 4-wire, RS-422; Modem: 56K/V.90,
synchronous (SLDC) and asynchronous
Printer:
SureLoad clamshell printer: Drop-in loading, thermal technology, 384
dots per line, 18 lines per second, including graphics
Paper roll: 2.24" (standard), 3" (optional); 57mm x 80mm diameter
Memory:
Flash: 8MB
SDRAM: 16MB
SRAM: 512KB (non-volatile)
SRAM backup: 5-year battery
Power:
AC: 100-240 V, 50/60 Hz
DC: 12 V, 2A
Footprint:
8.94 in x 5.91 in x 2.52 in / 22.7 cm x 15.0 cm x 6.4 cm
Weight 1.9 lbs/0.86 kg
Environment:
Temperature: 0-45°C/32-115°F
Humidity: Max 85%, non-condensing
ESD: 12,000 volts
---
Contact Us For Details: