Hypercom Optimum L4200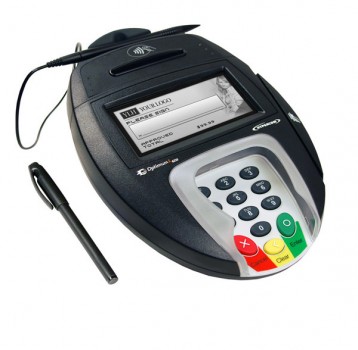 All a multi-lane seller needs in a payment terminal are in L4200. This is the latest model from Hypercom whose name is synonymous to reliable and secure POS terminals.
---
New with this model is the recessed keypad. This ergonomic design is helpful in securing PIN entry, not to mention its aesthetic value. More security feature of the L4200 are DES and Triple DES DUKPT encryption and PCI PED approval. It is even compliant with Financial Code of California for visually challenged individuals.
Optimum L4200 is fast with its bi-directional magnetic stripe reader and even faster with its 200MHz Intel XScale 32-bit processor.
This product can be customized to meet the merchant's specific needs. L4200 can be integrated with EMV approved, ISO 7816 compatible chip card reader and ISO 14443 A & B contactless RF reader.
---
Specifications:
Processor
Intel XScale 200MHz, 32-bit processor
Keypad
Elastomeric: 13 color-coded keys, water splashresistant,
hard keycaps
Six screen-addressable function keys
Display
LCD: 160 x 80 pixels, monochrome
Backlight: 100,000 hours (approximate lifespan)
Card Reader
Magnetic stripe: Bi-directional, Tracks 1, 2 & 3
(standard); dual-head card reader (optional)
Chip card: EMV approved; ISO 7816;
non-captive; 3V and 5V cards; three 5V SAMs
Contactless payment: Integrated (optional);
compliant with ISO 14443 A & B
Communications
MiniDIN port: RS-232 asynchronous, Client USB
IBM-retail with power-in, 10/100Base-T Ethernet
RJ-45 connector
USB Host: (optional)
Buzzer
4.0 KHz (peak)
70 dB minimum level at 1 ft.
Memory
4MB Flash/8MB SDRAM
Power
AC: 100-240 V, 50/60 Hz
DC: 12 V @ 500mA or 24 V @ 250mA
PIN Encryption
DES: Visa PED approved; PIN-ANSI X9.8,
MAC-ANSI X9.9 Part 1-ANSI X9.24
Triple DES: ANSI X9.52
Key management: DUKPT and 12 master/session keys
Footprint
8.22 in x 6.06 in x 2.36 in/20.9 cm x 15.4 cm x 6.0 cm
Weight
1.29 lbs/0.59 kg
Environment
Temperature: 0-45 C/32-115 F
Humidity: Max 85%, non-condensing
ESD: 12,000 volts
Reliability
100,000 hours (MTBF calculated)
---
Contact Us For Details: