Ingenico eN-Check 2500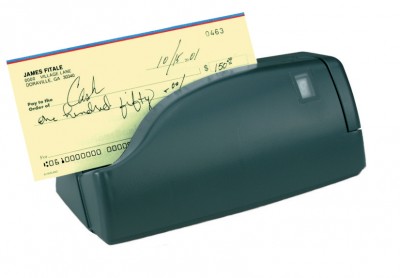 The en-Check 2500 delivers efficiency and accuracy with minimum operation sound in handling check reading.
---
The en-Check 2500 is a design totally being developed from experiences gained by the industry's leader in check reading technology. Being among the Ingenico line of products, the en-Check 2500 is guaranteed to work in excellent performance. This check reader runs with elite features and versatile capabilities. Easily transferred by its ergonomic compact footprint, the en-Check 2500 can be placed anywhere in the workspace or even around the office.
en-Check 2500 is a check reader optimized to function as a quality device. It has advance algorithms to ensure precise first-pass reading of checks. Features like Hand-Back/Hold-Away secures that any exception checks runs under the supervision of an authorize operator.
The en-Check 2500 comes with compatibility features to support any future add-ons. This is an advantage to improve a merchant's POS system without the constant replacement of units. The en-Check 2500 can be upgraded anytime in the future. This package has an optional magnetic stripe reader.
---
Specifications:
MICR Fonts
E13B, CMC7, and CMC0
Optional Magstripe Reader
Dual or triple track, bi-directional
Average Track Speed
21 inches per second (533 mm per second)
User Display
7 segment readout and LED with 3 colors
Application Software
Preloaded
Programmability
Downloadable via platform, configuration checks
or PC
Field upgradeable firmware via flash ROM
Interfaces
IBM, NCR, Fujitsu/ICL, Symbol Tech., Verifone
and most other POS, PC, wedge and terminal
platforms
Protocols
RS232, RS485, TTL, Keyboard Wedge, OCIA,
OCRA, MDL and others
Life Expectancy
One million reads
Voltage
4.9 V DC to 16 V DC (maximum, including ripple)
Current
400 mA normal operations (average)
250 mA quiescent
External Power Supply
None required in most installations when at
least 300 mA is available from the POS port
Dimensions & Weight
2.78″ (70.6 mm) x 3.0″ (76.2 mm) x 7.18″
(182.4 mm) 13.4 oz (.38 kg)
---
Contact Us For Details: