Nurit 2060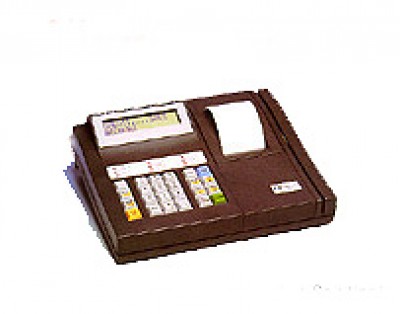 The Nurit 2060 an improved card and check Point-of sale terminal. This unit can easily be connected with a standard telephone cable or a cellular network. The Nurit 2060 is suitable for merchants with small to medium- range businesses.
---
Vital transactions such as check, credit card authorization, electronic transfer of funds (EFT) and other POS processes is feasible using this device because of its high level design features. It can finish a typical transaction in a few seconds with the help of its user-friendly features. Simple link up from cellular and telephone lines is another advantage for this device. Debit card operations can be easily manipulated since accessible rear ports support PIN pad connections. The RS-232 (serial) can also be simply connected to the rear portion of the Nurit 2060.
The built-in printer used as a simple paper and ribbon replacement. Apparently large alphanumeric LCD display gives the user with easy clear guide prompts to complete any form of transaction.
---
Specifications:
HUMAN INTERFACE
Large 32-character LCD display
Full alphanumeric capabilities
Built-in impact printer
Automatic paper feeder for printer
Magnetic stripe reader for tracks 1 and 2
Full header and trailer editing capability
Easy payment type selection
Total transaction time in less than 15 seconds
User-friendly menu system
Direct function keys (no need for template)
HARDWARE AND SOFTWARE
PROCESSING
Powerful 32-bit Motorola microprocessor, type EC68000
MEMORY
512 Kbyte flash memory for operating system application and parameter 256 to 512 Kbyte battery-backed RAM for user data. Two months minimum data retention.
PROGRAMMING
Fully soft operating system for custom application reprogramming in C language
Complete and detailed hardware/software built-in tests
Reprogramming possible by downloading over phone
Operating system support for easy programming
Major third-party credit, debit and check verification hosts available
SECURITY
User programming security and authorization access
Program password protection
COMMUNICATION
Dial-up modem @ 1200 or 2400 bps for telephone communication (CCITT V.22, V.22bis and BELL 212A)
INTERFACING
One general purpose RS-232 port, up to 19200 baud
One PIN pad port
PRINTER
Impact dot matrix type; 24 character, 2.5 lines/sec.; 1 or 2-ply paper capability using normal or pressure sensitive 2.26″ (57.5 mm) wide paper
MECHANICAL FEATURES
DIMENSIONS
9.06″ deep x 10.63″ wide x 3.15″ high (23 cm x 27 cm x 8 cm) 3 lbs. (1.4 Kg)
POWER SUPPLY
Supplied AC/DC adapter (15 VDC/2.5A)
UPS model with Ni-Cd battery pack available
---
Contact Us For Details: