First Data FD100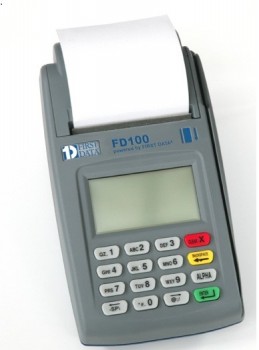 The First Data FD100 serves to be a simple yet advance POS terminal. Performance, security, ease of use and reliability is combined into this economical terminal. The FD100 is the all-in-one POS device. First Data is known to be the largest processor in the US which paves way for the use of the FD100 terminal in many businesses.
---
The First Data FD100 is a feature-rich terminal. It basically provides high level of transaction quality as it employs the latest available technologies.  It made use of Internet Protocol (IP) or dial-up connection for secure processing. Interoperability is another advantage for this terminal as it is compatible with many standard peripherals. This terminal can easily be adapted to the fast-changing retail industry since it is one of the fastest and high security POS devices available.
Easy operation is offered by this terminal as it gives clear user guides. The FD100 terminal accepts PIN-secured and signature debit cards, credit cards (including Visa, MasterCard/Diners Club, Discover and JCB), contactless payments, gift cards and checks using TeleCheck ECA or paper solutions.
The FD100 terminal includes a fast thermal printer that runs in with a 15-line per second rate. This eliminates the bottleneck in most retail businesses as receipt generation is quickly processed.
---
Specifications:
Verification and processing capabilities for ATM, debit, electronic benefits transfer (EBT) transactions and check payments
Fast printer capable of 15 lines per second
IP capability with dial-up as connectivity backup
Compact design
Durable keys
Touch screen capability with 128 x 64 graphic LCD display
Merchant-friendly one-touch feature for daily functions
Three-track magnetic stripe reader
Contactless support
64 MB RAM standard memory
Five USB ports
Address verification service
Batch history
Simplified support and installation
Three-inch-wide thermal roll printer
---
Contact Us For Details: