PeriPheron Receipt Master 2000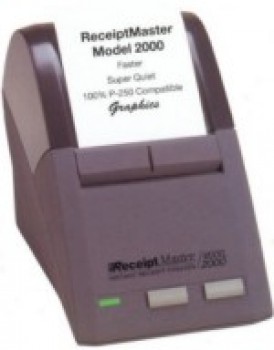 PeriPheron introduces the Receipt Master 2000 that features quality thermal printer. The RM 2000 is a point-of-sale printer that works fast with almost no recognizable sound.
---
The Receipt Master 2000 is a thermal printer from PeriPheron Technologies that offers excellent speed with high level performance in thermal printing. It has a printing rate of 12.5 lines per second. With the Receipt Master 2000 paper loading is made easy because of its self-feeder and longer-lasting paper rolls. The paper rolls for this thermal printer is 50% bigger minimizing the need for frequent replacement.
There are lesser moving parts in the RM 2000 printer optimizing its life and reliability.
The PeriPheron RM 2000 is compatible to VeriFone's P250 emulation text and graphical codes. It also supports major payment terminals.
---
Specifications:
General Specifications
Type: Thermal Line Printer
Print Direction: Vertical
Footprint: 29.6 sq in (191 sq cm)
Print Speed (CPS): 726 Characters/Sec, type 12.5 lps
Print Head Life:
425 Million characters,
9.6 Million lines,
1.1 Million inches,
print head is replaceable
Configuration Method
Built-in setup menu and copy quality are set from front panel, settings stored in nonvolatile RAM
Connector: 8 pin Mini-Din, VeriFone P-250 compatible
Character Set and Size
Character Set: 100% VeriFone P-250 compatible
Paper Specifications
Type: Direct Thermal
Thickness: .002″ to .009″ max
Activation: 20%
Temperature: 140F (60C)
Print Method: 448 Dot Direct
Print Width:
2.2 in (56 mm)
42 columns/line at 10-24
21 columns/line enlarged
Paper Feed Speed: 12.5 LPS
Print Head Resolution: 0.125 mm dot pitch
Emulation: VeriFone Printer 250
Data Organization: 7 or 8 bits, even, odd, space or no parity
Column and Line Spacing
Column Spacing: 1.25 mm, 2.50 mm (enlarged font)
Line Spacing: 3.12 mm (approx. 8.4 line per inch) default, programmable in units of 1/60 inch
Electrical Specifications
Power Supply Voltage: 13-34 VDC or 22 VAC transformer, 1.5A, AC line 70-140 VAC 50-60 Hz
Power Consumption: 16.5 Watts, receipt printing at 12.5 lps. 500 mW, non-operating
Case Dimensions and Weight
Height: 5.51″ (139 mm)
Width: 3.98″ (101 mm)
Depth: 7.76″ (197 mm)
Weight:
1 lb 13.4 oz (.83 kg)
including full roll of paper, not including power pack
Exposure Temperature: 185F (85C)
Copy Capability:
A programmable number of copies (2-5) can be automatically printed under software control
Environmental
Operating Temperature: 50F to 104F (10C to 40C) Non-Condensing
Storage Temperature: 50F to 104F (10C to 40C) 10% to 90% Non-Condensing
---
Contact Us For Details: