Thales Dassault Talento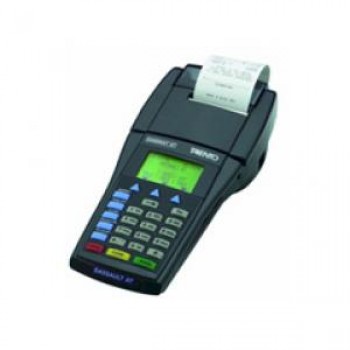 The Thales Talento is a multi-functioning all-in-one credit card terminal/printer.
---
The Thales Talento supports many POS transactions including credit and debit cards, check authorization, EBT, electronic check, telephone and mail orders and an optional processing of smart cards.
To support the varying need of merchants, the Thales Talento comes in different memory models. The Thales Talento also comes with an integrated thermal printer. Operation with its familiar ATM-style interface is both clerk and customer friendly.
The Thales Talento is running with a powerful processor that enables multi-tasking a possibility. It uses an advance microprocessor that facilitates multi-functionality.
---
Specifications:
Processor
Memory
RAM 128K or 256K; Elective 512K or 8MB
Displays
six lines of configurable backlit LCD display
Keypad
25 keys – 5 function keys and three screen addressable keys;
Options: forty-one keys with graphic display or fifty-nine keys with QWERTY Keyboard
Card Reader
Tracks one and two, or two and three
Options: Track three and JIS 2 reader
Modem
2400bps
Options: Smart card reader, power
phone and RS232 ports on power source pack
Check reader
Integrated Pin Pad
---
Contact Us For Details: