Verifone Printer 355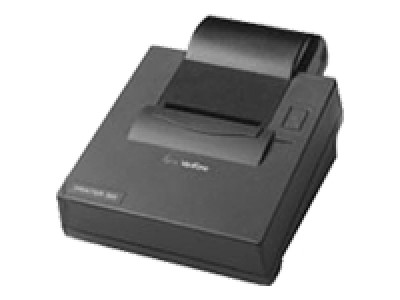 VeriFone-s fast, quiet and reliable printer. What you need from a durable thermal printer, the 355 can deliver.
---
The Printer 355 is a highly reliable thermal printer that works along smoothly with your VeriFone terminal. Aside for its cost- effectiveness, it is easy to use and maintain ensuring longer quality life.
The VeriFone Printer 355 prints at 12.5 lines per second producing crisp legible receipts. It conserves counter space as it comes with a compact design.
Along with the other printers, the Printer 355 supports the TRANZ and OMNI family. Applications from Printer 250, PrintPak 300 or Printer 900 are compatible to 355.
---
Specifications:
Physical
Height 2.78 in (70.5 mm)
Width 5.12 in (130 mm)
Depth 6.6 in (167.5 mm)
Shipping Weight 4.28 lb (2.24 kg)
Operating Temperature 0 to 40 C (32 to 104 F)
Printing
Technology Thermal, fixed printhead
Speed 12.5 lines per second in text mode
Buffer 64 bytes
Copies Switch selectable 1,2 or 3
Printhead Life Expectancy/ 4 million lines
Mechanical Reliability (MBCBF)
Standard Characters
10 international character sets
Graphic printing capability
Paper
Size 2.2 in (57 mm) wide standard roll, single ply
Format
42-column, portrait—PRINTER 250 emulation
32-column, portrait—PRINTPAK 300 emulation
24-column, portrait—PRINTPAK 300 emulation
Interface
Serial RS-232C compatible
Baud Rate Switch selectable: 1200, 2400, 4800 and 9600 baud
Connecting Terminals
Models
ZON Jr XL
TRANZ 300 series
OMNI 300 series
OMNI 1200 series
Power
Voltage 120 VAC, 47-63 Hz (10%) or 230 VAC, 50 Hz
---
Contact Us For Details: