Ingenico i5100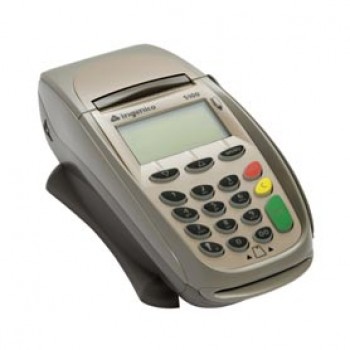 Providing flexible payment terminal with an integrated PIN pad, that is Ingenico 5100.
---
The Ingenico 5100 is a cost effective terminal option considering its capability to handle IP based applications. It is designed with Ethernet connectivity to optimize communication.
The i5100 consists of an advance modem, high grade processor and a thermal printer. The smart design and well established keypad array provides easy operation.
The i5100 secure transaction processing as it complies with latest standards. It is VISA approved PED for offline and online work. Uses DES and 3DES integrated PIN pad for additional security.
---
Specifications:
Processor: 32 bit ARM processor
Memory
2MB SRAM and 4MB Flash
Upgradeable to 8MB of Flash
Printer
15 times per second thermal printer
Easy load with end-of-paper roll detection
Full graphics printing capability
Display
LCD display
128X64 pixels and graphics capability
Backlit with adjustable contrast
Keypad
18 backlit keys including 3 screen addressable
function keys
Communications
V34 modem, transfers up to 33.6K bits per second (bps)
Synchronous and asynchronous transmission
TCP/IP for use as a thin client
TCP/IP – POP3, SMTP, SSL
Magnetic stripe reader
Tracks 1, 2 & 3
Smart card reader
EMV Ready
UNICAPT 32 EMV Level 2 approved
ISO 7816 1-2-3, Async/Sync. T=0 &T=1
Optional support for up to 3 Secure Access Modules
(SAM) in SIM format
Security
Visa approved PED, on-line/off-line
DES or 3DES
DUKPT or MasterSession management keys
Secure local and remote software downloading
Connectivity
(2) RS232 ports for connection peripherals
10 base T Ethernet
Programming
UNICAPT 32 secure multi-application platform and
development environment
Programmable in C
Environmental
Operating temperature: 41F to 104F (+5C to +40C)
Storage temperature: -2F to 158F (-20C to +70C)
Dimension & Weight
21 x 9.5 x 7.5 cm (8.27 x 3.74 x 2.95 in)
1.32 lb. (600 g)
---
Contact Us For Details: