Hypercom S9SC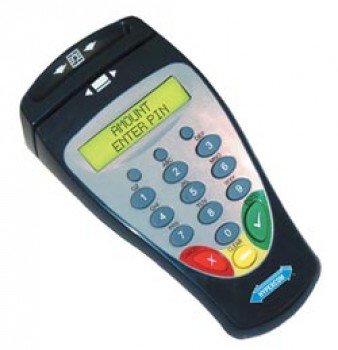 There is nothing more important that customer comfort. The same is true up to the time they pay for your product or services. Hypercom S9SC can help you deliver comfort.
---
S9SC is an easy handheld payment terminal that perfectly fits the palms of your customers when they enter their PIN for payment. It is effortless to use with its big keys and backlit display.
Beyond that, Hypercom S9SC is secure. It is triple DES capable and VISA PED approved. You can even choose between master/session keys and DUKPT.
---
Specifications:
KEYPAD
DISPLAY
LCD: 2 x 16 characters
Backlight: 25,000 (calculated)
CARD READER
Magnetic stripe: (optional); Tracks 1, 2
(standard), Tracks 2, 3 (optional); 400,000 reads
(calculated)
Chip card: (optional); EMV 4.0 certified;
ISO 7816; non-captive; 3V and 5V cards;
two SAM sockets
COMMUNICATIONS
PIN pad port: RS-422 PIN (standard), RS-232
3-wire (optional)
POWER
7.5 – 14 VDC, 100mA (standard)
SECURITY
Physical: Visa PED-approved; intrusion
detection, secure cryptographic module
PIN ENCRYPTION
DES: Visa PED-approved; PIN-ANSI X9.8,
MAC-ANSI X9.9 Part 1-ANSI X9.24
Triple DES: ANSI X9.52
Key management: DUKPT or
12 master / session keys
FOOTPRINT
Dimensions: 3.54in x 6.73in x 2.09in /
9.0cm x 17.1cm x 5.3cm
WEIGHT
0.5 – 0.6 lbs/0.22 – 0.27 kg
(depending on the configuration)
ENVIRONMENT
Temperature: 0-45 C/32-115 F
Humidity: Max 85%, non-condensing
ESD: 12,000 volts
RELIABILITY
100,000 hours (MTBF calculated)
CONFIGURATIONS
PIN pad only (S9)
PIN pad with magnetic stripe reader (S9C)
PIN pad with chip card reader (S9S)
PIN pad with magnetic stripe and chip card readers S9SC)
---
Contact Us For Details: