Hypercom ICE 5700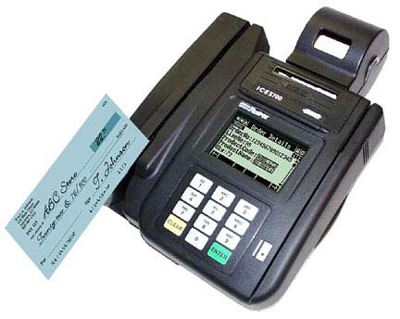 With Hypercom ICE 5700 Check reading and processing has never been this fast and easy!
---
ICE 5700 is a compact POS terminal which takes up only a small counter space and does away with lots of cables, lessening hassle on your counter.
It processes checks accurately through its MICR and non-acceptance of altered characters. It verifies checks against negative files or positive online authorizations.
Hypercom ICE 5700 also serves as a smart card and magnetic stripe card reader. What's more is that it supports email, electronic signature and receipt capture, and virtual store hosting.
---
Specifications:
Memory
1 MB RAM; 1.5 MB Optional
Display
LCD: Touch Screen; 160 x 80 pixel graphics;
Backlight: 3,000 hours (calculated)
Card Reader
Magnetic stripe: Track 1, 2, 3; Tracks 1, 2 or Tracks 2, 3 standard;
JIS tracks optional
PIN pad port: 4-wire, RS485
Peripheral Ports
RS-232 serial port for direct connection to a personal computer, electronic cash register or journal printer up to 9600 baud communications port for a PINpad or bar code wand
Modem
FastPOS 9600 bps, 2400, 1200, 300 bps – V.29, V.22BIS, V.22, V.21, synchronous (SDLC) and asynchronous, LAN
PIN Encryption
DES: PIN-ANSI 9.8, MAC-ANSI 9.9;
Key management: Master/session keys (12) or DUKPT
Printer
Thermal, 576 dots per line;
Paper – 2.28 in/wide, 1.97 in 3.15 in/diameter
Keypad
Membrane: 12 keys, water-resistant
Physical
10.0″L x 5.18″W x 2.5″H
Weight: 1.5 lbs
Voltage
AC: 85-250 V AC, 50/60 Hz;
DC: 24 V, 1A
---
Contact Us For Details: