Epson TM-U325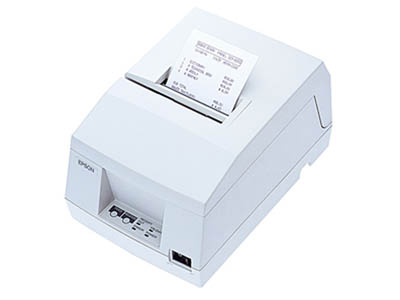 The Epson TM-U325 is an impact printer that functions as a receipt and multi-line validation printer.
---
Epson TM-U325 generates prints with crisp and clear result. It is developed to be used as a receipt and validation printer in a limited area. It has a speed rate of 6.4 lines-per-second and has downloadable fonts for merchant's preference.
This impact printer features an easy paper loading system for quick replacement and maintenance. The Epson TM-U325 runs with an Auto Status Back (ASB) capability which monitors the printer's status in real time. This keeps maintenance an easy job.
The TM-U325 is perfectly suitable for financial establishments that need a processing device both for receipt and validation printing. The Epson TM-U325 comes in a small packed design to fit any limited area.
---
Specifications:
Print method
9-pin, serial impact dot matrix
Print font
Font 7 x 9 / 9 x 9
Column capacity
40 or 42 columns/33 or 35 columns
Character size
1.24 x 3.1mm (W x H)/1.56 x 3.1mm (W x H);
{0.049 x 0.122″/0.061 x 0.122″}
Character set
95 Alphanumeric, 32 International, 128 x 8 Graphic
Characters per inch
16 or 17.8 cpi/13.3 or 14.5 cpi
Printer Interface
RS-232C, Bi-directional parallel, Connect-It
Data buffer
4KB/45 bytes
Print speed
Approx. 3.5 lps (at 40-column printing)/approx. 6.4 lps (at 16-column printing)
Paper dimensions
Maximum print lines: 9 lines
Receipt
76 + 0.5 x diameter 83mm (2.99 + 0.02 x diameter 3.27″)
Validation
135 to 182 x 70 to 182mm (W x L) {5.31 to 7.17 x 2.76 to 7.17″}
Paper thickness
Receipt
0.06 to 0.085mm [0.0024 to 0.0033″]/sheet (total thickness: 0.2mm [0.079″] or less)
Validation 0.09 to 0.12mm [0.0035 to 0.0047″]/sheet (total thickness: 0.09 to 0.31mm)
[0.0035 to 0.012″], (including the thickness of roll paper)
Copy capability
One original and two copies
Inked ribbon
ERC-38 (purple, black)
Ribbon life
4,000,000 characters (purple), 3,000,000 characters (black)
Power supply
AC adapter (included), PS-180 (option)
Power consumption
Approx. 43W
D.K.D. function : 2 drivers
Reliability
MTBF 180,000 hours
MCBF 49,000,000 lines
Overall dimensions
164 x 240 x 136mm (W x D x H) {6.46″ x 9.45″ x 5.35″}
Mass
Approx. 2.3 kg (5.07 lbs)
Control Board
EMI standards FCC class A, CE marking
Safety standards
UL, CSA
---
Contact Us For Details: