Nurit 3020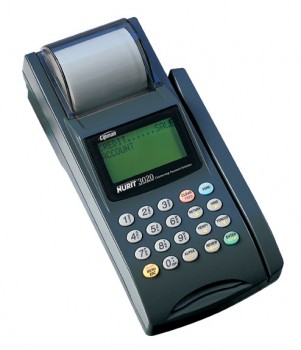 The Nurit 3020 is an innovative payment terminal as it integrates a processor, printer and an internal pin pad. This device is the landline edition of the Nurit 3010 which is wireless and an upgrade from the Nurit 2085 plus terminal.
---
This unit works reliably for merchants that are in need of fast processing of transaction. This device is an all-in-one solution for retailers as it has a built-in thermal printer and an internal pin pad for debit transactions. The Nurit 3020 is highly recommended for those retailers that seek economical cost without compromising for quality. It accepts all card types including debit and smart cards.
The Nurit 3020 include numerous features that is suitable for the retailers. A processor running at 14,400 bps allows excellent download for software, parameters, black lists and other data. This rate is extremely significant from the traditional 2400 bps modems. The Nurit 3020 can hold as much as six times the volume of the typical modem.
Electronic communication and transaction can easily be connected using this terminal. This is possible since the Nurit 3020 supports TCP/IP protocol. Moreover, printing is not much of a hassle for the thermal printer is readily available.
---
Specifications:
Display
Large graphical backlit display
Keypad
20-key keypad (no overlay needed)
Programmable function keys
Printer
12.5 line per sec graphical thermal printer
Microprocessor
32-bit Motorola 68xxx-series microprocessor
Memory
2MB Flash memory for software
1MB RAM for transactions (battery backed up)
Modem
1200/2400/14400 bps modem
Dialup Connectivity Options
asynchronous
synchronous
Rear access peripheral ports
RS-232 (comm port)
RS-232 (external PIN pad port)
RJ-11 (phone jacks)
Card Reader
Dual track reader (track 1&2)
PIN pad
Standard internal PIN pad
Optional Features
Rechargeable / replaceable battery
Smart card reader
2 internal SAMs
2 user accessible SAMs
Track 2&3 card reader
2MB or 4MB transaction RAM models
Physical/Electrical
Dimensions
3.2in (H) x 4.3in (W) x 9in (D)
Weight – 1.6lb lbs. (without paper)
Shipping weight – 4.35 lbs.
UL approved AC/DC adapter 14.5Vdc / 1.5A
---
Contact Us For Details: