VeriFone Tranz 420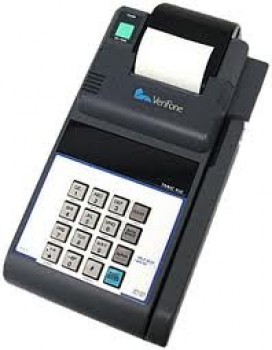 The Tranz 420 offers great point of sale technology by incorporating devices into one.
---
The VeriFone Tranz 420 Mobile Merchant is suitable for businesses without the typical storefront yet card payments are used. The Tranz 420 can work up to 200 transactions without direct connection to an AC power providing convenience both from the merchant and the customer.
The Tranz 420 accepts all major debit, credit and other private-label cards. The terminal can generate reports and receipts by the integrated dot-matrix roll printer.
The Tranz 420 comes with a small footprint and portable yet it does not compensate quality processing. The 420 can perform check, credit card verification, price storage, price look-up, product control and other many business related functions. In order to work in full potential a bar code wand or a PIN pad needs to be added.
---
Specifications:
Memory:
32K EPROM and 32K battery-backed RAM
Display:
16-character (alphanumeric), vacuum fluorescent display, including decimal point and comm.
Printer:
24-columm dot matrix roll printer
Card Reader:
Dual-Track magnetic card reader Track 1 and 2 or track 2 and 3 reader available as an option
Peripheral Ports:
RS-232 serial port for for direct connection to a personal computer, electronic cash register or slip printer TTL port for a PIN pad or a bar code wand
Modem:
Standard modem with selectable options: Bell 103, Bell 212 and CCITT V.21/V.22
Physical:
Height: 4.57 in (116 mm);
Width: 5.83 in (148 mm);
Depth: 11.85 in (301 mm);
Shipping Weight: 4.0 lbs (1.8 kg)
Environmental Operating Temp.
32 to 104 F (0 to 40 C);
Operating Humidity:
20% to 90%, non-condensing
Voltage:
95 to 130VAC, 60 HZ 1 HZ
200 to 254VAC, 50 HZ 1 HZ
6 VDC self-charging lead-acid battery
Optional: 12 VDC automotive systems
---
Contact Us For Details: