Hypercom ICE 5500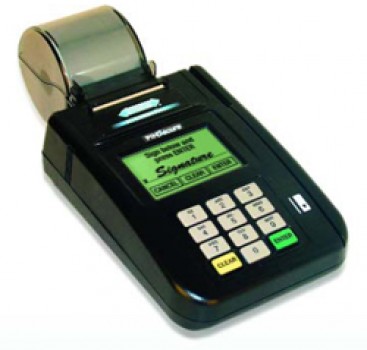 The Hypercom ICE 5500 offers reasonably priced ePOS-infocommerce functionality and Web connectivity.
---
It is a marketing tool that allows the merchant to offer incorporate promos, coupons and other advertisements on the display. It has a signature and receipt capture system that lets you avoid chargebacks and maintains sound customer relationship and good buying experience.
ICE 5500 supports a wide range of transactions including credit, debit and charge transactions. It is compatible with older software versions thus lowering cost and certification time. It is equipped with FastPOS modem for a significantly faster connectivity.
---
Specifications:
Display
LCD: 160 x 80 pixel graphics
Backlight: 3,000 hours (calculated)
Card reader
Magnetic stripe: Track 1, 2, 3; Tracks 1, 2 or Tracks 2, 3 standard;
JIS tracks optional
Reliability: 400,000 reads (calculated)
Card option
IC card interface: ISO 7816 – 1, 2, 3, 4; T=0; T=1; EMV-certified
SIMMLOCK 4 SAMs
Smart/memory card Non-captive reader
Contactless card MIFARE standards reader
Keypad
Membrane: 12 keys, water-resistant
Comms
Modem: FastPOS 9600 bps, 2400, 1200, 300 bps – V.29,
V.22BIS, V.22, V.21, synchronous (SDLC) and
asynchronous, LAN optional
PIN pad port: 4-wire, RS485
Peripheral: RS232
Printer
Type: Thermal, 576 dots per line
Paper roll: 2.28 in/58 mm wide, 1.97 in/50 mm diameter
3.15 in/80 mm diameter optional
Reliability: 70,000 impressions (calculated)
Memory
RAM: 1 MB standard, 1.5 MB optional
RAM backup: 5-year battery
Power
AC 85-250 V AC, 50/60 Hz
DC 24 V, 1A
Security
Physical: Intrusion detector & secure CPU
PIN Encryption
DES: PIN-ANSI 9.8, MAC-ANSI 9.9
Key management: Master/session keys (12) or DUKPT
Environment
Temperature: 0-45 C/32-115 F
Humidity: Max 85%, non-condensing
ESD: 12,000 volts
Footprint
Dimensions: 10.0 in x 5.18 in x 2.5 in/25.4 cm x 13.2 cm x 6.35 cm
Weight: 1.5 lbs/0.68 kg approximate weight
Product lifecycle
Reliability: 100,000 hours (calculated), not including printer
---
Contact Us For Details: