Hypercom ICE 6000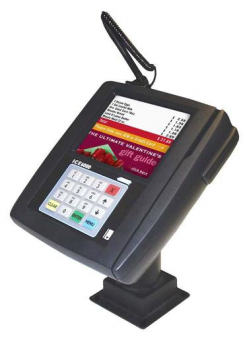 Hypercom ICE 6000 might be the only POS terminal you will ever need!
---
It supports a variety of payment methods from the traditional ones to the not-so-common methods. ICE 6000 processes payments though debit and credit cards, checks and even loyalty and gift cards.
It has an edgy design with its colorful touch screen that can display coupons and ads.
---
Specifications:
Display
LCD: 5.7 inch; 320 x240 pixel graphics
Backlight: 25,000 hours (calculated)
Touchpad: Resolution 870 points per inch
Color: 256 colors
Keypad
Elastomeric: 16 Keys, water splash-resistant
Magnetic Stripe Reader
Bi-drectional Tracks 1,2,3 (standard);
JIS (optional)
Smart Card Reader
EMV3.1 certified; ISO 7816 1,2,3,4; T=0;
T=1; non-captive; 4 SAMS
Communications
LAN: Ethernet 10 Base-T,
RS-485 synchronous & asynchronous
ECR: RS-232 with 12/24V power in,
IBM tailgate (optional)
PIN pad port: RS-422, 12V
Peripheral: RS-232 with 12/5 V power out
Memory
RAM: 1.5 MB (standard), 2 MB (optional)
RAM Backup: 5-year battery
Power
AC: 100-240 V AC, 50/60 Hz
DC: 24 V, 1 A
Security
Physical: Visa PED approved; Intrusion
detection, encryption coprocessor
PIN Encryption
PIN-ANSI 9.8, MAC-ANSI 9.9, ANSI X9.52;
DUKPT and Triple DES master-session
key management
Environment
Temperature: 0-45 C/32- 110 F
Humidity: Max 85%, non-condensing
ESD: 12,000 volts
Weight
2.05 lbs/0.95 kg
Footprint
Dimensions: 8.7"x7.4"x2.2"/
22.1cm x 18.8cm x 5.6cm
Reliability
100,000 hours (MTBF calculated)
---
Contact Us For Details: