VeriFone Omni 3300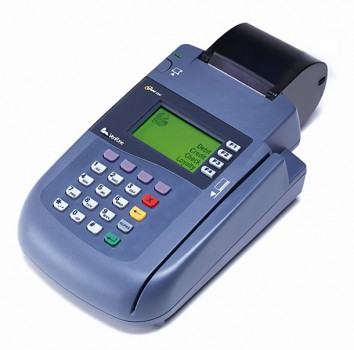 Omni 3300 terminal was built to associate today and tomorrows demand. With its speed, high performance and sleek design, it suits to stand multiple electronic payment application conveniently in a single terminal.
---
Integration of its compact design and high-speed thermal printer, the terminal could stand even for heavy use. It has ATM-like display with extensive graphics capabilities to minimize clerical errors. Built-in graphics and easy-to use design for users' convenience. It is said to have the fastest turnover of report – from the time the card swiped to the printing of receipt. Protective cover was feature to virtually get rid from paper jams. These features assure the terminal's maximum throughput.
Performance:
Multi-tasking capability with exceptional throughput
Plug-and-play ready
Multi-application in a single terminal
Triple-track card reader to recognize most of magnetic stripe cards
Large memory to handle multiple transactions
VeriShield security architecture to provide tamper-resistant features
Release of upgrades to support needs change
---
Specifications:
Microprocessor:
32-bit microprocessor
Memory:
1 Mbyte of Flash memory (expandable to 2 Mbytes)
512 Kbytes of SRAM (expandable to 1 Mbyte).
Display:
128 x 64 pixel graphical LCD with backlighting
Supports 8 lines x 21 characters
Card Reader:
Triple track (tracks 1, 2, 3)
High coercivity
Bi-directional
Keypad:
3 x 4 numeric keypad
8 soft-function keys and 4 screen-addressable keys
Peripheral Ports:
Two RS-232 ports and two telecom ports support peripherals including PINpads, check readers and bar-code wands
Printer:
Integrated thermal printer with graphics capabilities
12.5 lines per second
24/32/42 columns
Paper 58 mm (2.25 in.) standard roll, single ply
Modem:
High-speed dial modem (Bell 103/212a, CCITT V.21/V.22/V.22bis, 300/1200/2400/14400 bps, synchronous and asynchronous)
Protocols:
Application selects between asynchronous protocols (Visa 1, Visa 2 and others) and synchronous protocols (including ISO 8583/SDLC)
Security:
VeriShield file authentication
Physical:  
Height: 75 mm (2.95 in.)
Width: 146 mm (5.75 in.)
Depth, includes printer spool: 292 mm (11.5 in.)
Weight: 1.1 kg (2.4 lbs)
Environmental:
0° to 40° C (32° to 104° F) operating temperature
5% to 90% relative humidity, non-condensing
Voltage:
182-242 VAC
50 ± 1 Hz; 94-135 VAC
60 ±1 Hz
DC input 20-34 VDC
---
Contact Us For Details: